Marque: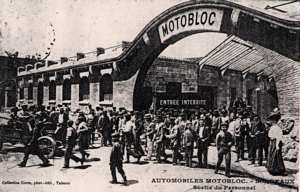 Manufacture of the first Schaudel automobile began in 1897, but the marque took off after the construction of a new factory on the rue des Vivants, La Bastide, Bordeaux. In the British Autocar magazine of 17 Aug 1901, there is reference to the car and that it was about to be sold by the British importer Messrs Montague Hawnt & Co. A Schaudel was exhibited at the Stanley show in November of that year.
In June 1902, la Societe Anonyme des automobiles Motobloc was founded in Bordeaux, France with the aim of exploiting the Schaudel patents and above all the famous "moto-bloc". Throughout its existence as a car manufacturer, from 1902 to 1931, Motobloc was located at 88 - 134 Rue des Vivants, La Bastide, Bordeaux. The site has since been cleared and in 1998 was in use as a car park by the local Peugeot garage. Neighbouring houses of the same age are still occupied.
The name was briefly in prominence when it appeared in the opening minutes of the film Chitty Chitty Bang Bang in a reconstruction of the Grand Prix de France 1908 on a name board in the pits, along with Mercedes, Fiat and Renault . A Motobloc (until recently in the Museum Desbordes near Rennes) appeared as a major player in the François Truffaut film, Les Deux Anglaises et le Continent.
The marque began to establish its presence when three Motoblocs were entered in the Paris-Madrid race of 24 May 1903. This included an important stage in Bordeaux. One was also entered in the New York to Paris race of 1908 albeit the car retired in the latter race before it had crossed the Rockies when the crew ran out of money. Three Motoblocs were entered in the Grand Prix de l'ACF of 1907 and in the following year 3 Motoblocs entered the Grand Prix de l'ACF which departed Dieppe on 7 July.. A contemporary photograph of a famous cafe in Dieppe shows the marque must have been well known then. The Cafe des Tribunaux still does excellent business under the same name 90 years later and it can be seen that Motoblocs are still using it.
In a vigorous advertising campaign, Motobloc built up a reputation based on reports from his customers. The marque was exported to several countries and particularly to Great Britain. By 1909 with the introduction of the Type N and its offspring the Type O and Type OB, the marque was well established. These models were followed in turn by many others.
There are many references to the marque in books and on web sites.